With all of the havoc being caused by COVID-19, many are concerned we may see a new wave of foreclosures. Restaurants, airlines, hotels, and many other industries are furloughing workers or dramatically cutting their hours. Without a job, many homeowners are wondering how they'll be able to afford their mortgage payments.
In spite of this, there are actually many reasons we won't see a surge in the number of foreclosures like we did during the housing crash over ten years ago. Here are just a few of those reasons:
The Government Learned its Lesson the Last Time
During the previous housing crash, the government was slow to recognize the challenges homeowners were having and waited too long to grant relief. Today, action is being taken swiftly. Just this week:
The Federal Housing Administration indicated it is enacting an "immediate foreclosure and eviction moratorium for single family homeowners with FHA-insured mortgages" for the next 60 days.
The Federal Housing Finance Agency announced it is directing Fannie Mae and Freddie Macto suspend foreclosures and evictions for "at least 60 days."
Homeowners Learned their Lesson the Last Time
When the housing market was going strong in the early 2000s, homeowners gained a tremendous amount of equity in their homes. Many began to tap into that equity. Some started to use their homes as ATM machines to purchase luxury items like cars, jet-skis, and lavish vacations. When prices dipped, many found themselves in a negative equity situation (where the mortgage was greater than the value of their homes). Some just walked away, leaving the banks with no other option but to foreclose on their properties.
Today, the home equity situation in America is vastly different. From 2005-2007, homeowners cashed out $824 billion worth of home equity by refinancing. In the last three years, they cashed out only $232 billion, less than one-third of that amount. That has led to:
37% of homes in America having no mortgage at all
Of the remaining 63%, more than 1 in 4 having over 50% equity
Even if prices dip (and most experts are not predicting that they will), most homeowners will still have vast amounts of value in their homes and will not walk away from that money.
There Will Be Help Available to Individuals and Small Businesses
The government is aware of the financial pain this virus has caused and will continue to cause. Yesterday, the Associated Press reported:
"In a memorandum, Treasury proposed two $250 billion cash infusions to individuals: A first set of checks issued starting April 6, with a second wave in mid-May. The amounts would depend on income and family size."
The plan also recommends $300 billion for small businesses.
Bottom Line
These are not going to be easy times. However, the lessons learned from the last crisis have Americans better prepared to weather the financial storm. For those who can't, help is on the way.
If you're looking to buy a home in 2020, have you thought about putting your tax refund toward a down payment? Homeownership may be one step closer than you think if you spend your dollars wisely this year.
Based on data released by the Internal Revenue Service (IRS), Americans can expect an estimated average refund of $2,962 when filing their taxes this year.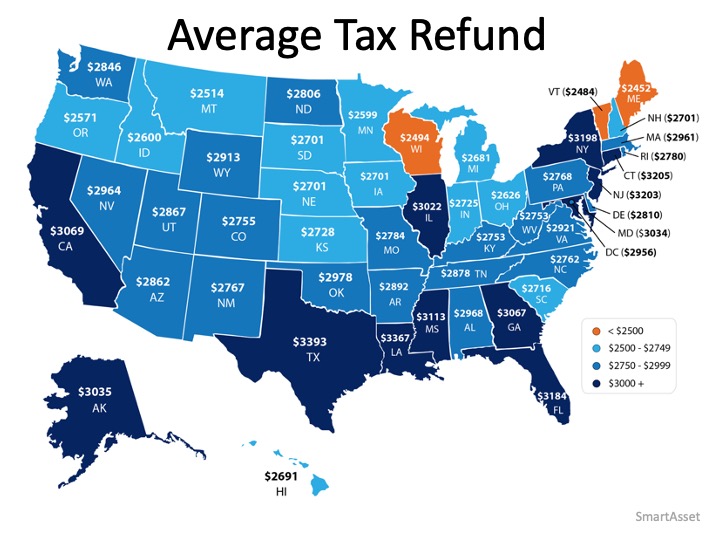 The map below shows the average tax refund Americans received last year by state:According to programs from the Federal Housing Authority, Freddie Mac, and Fannie Mae, many first-time buyers can purchase a home with as little as 3% down. Truth be told, a 20% down payment is not always required to buy a home, even though that's a common misconception about homebuying. Veterans Affairs Loans allow many veteransto purchase a home with 0% down.
How can my tax refund help?
If you're a first-time buyer, your tax refund may cover more of a down payment than you ever thought possible.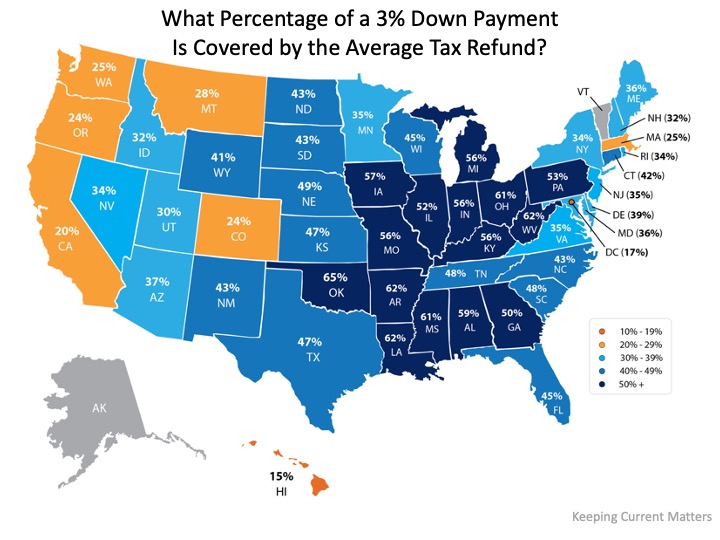 If you take into account the median home sale price by state, the map below shows the percentage of a 3% down payment that's covered by the average tax refund:The darker the blue, the closer your tax refund gets you to homeownership in one of these programs. Maybe this is the year to plan ahead and put your tax refund toward a down payment on a home.
Bottom Line
Saving for a down payment can seem like a daunting task, but the more you know about what's required, the more prepared you'll be to make the best decision for you and your family. This tax season, your refund could be your key to homeownership.
The Coronavirus (COVID-19) has caused massive global uncertainty, including a U.S. stock market correction no one could have seen coming. While much of the news has been about the effect on various markets, let's also acknowledge the true impact it continues to have on lives and families around the world.
With all this uncertainty, how do you make powerful and confident decisions in regard to your real estate plans?
The National Association of Realtors (NAR) anticipates:
"At the very least, the coronavirus could cause some people to put home sales on hold."
While this is an understandable approach, it is important to balance that with how it may end up costing you in the long run. If you're considering buying or selling a home, it is key to educate yourself so that you can take thoughtful and intentional next steps for your future.
For example, when there's fear in the world, we see lower mortgage interest rates as investors flee stocks for the safety of U.S. bonds. This connection should be considered when making real estate decisions.
According to the National Association of Home Builders (NAHB):
"The Fed's action was expected but perhaps not to this degree and timing. And the policy change was consistent with recent declines for interest rates in the bond market. These declines should push mortgage interest rates closer to a low 3% average for the 30-year fixed rate mortgage."
This is exactly what we're experiencing right now as mortgage interest rates hover at the lowest levels in the history of the housing market.
Bottom Line

The full impact of the Coronavirus is still not yet known. It is in times like these that working with an informed and educated real estate professional can make all the difference in the world.