In a recent survey by realtor.com, people thinking about selling their homes indicated they're generally willing to allow their agent and some potential buyers inside if done under the right conditions. They're less comfortable, however, hosting an open house. This is understandable, given the health concerns associated with social contact these days. The question is, if you need to sell your house now, what virtual practices should you use to make sure you, your family, and potential buyers stay safe in the process?
In today's rapidly changing market, it's more important than ever to make sure you have a digital game plan and an effective online marketing strategy when selling your house. One of the ways your agent can help with this is to make sure your listing photos and virtual tours stand out from the crowd, truly giving buyers a detailed and thorough view of your home.
So, if you're ready to move forward, virtual practices may help you win big when you're ready to sell. While abiding by state and local regulations is a top priority, a real estate agent can help make your sale happen. Agents know exactly what today's buyers need, and how to put the necessary digital steps in place. For example, according to the same survey, when asked to select what technology would be most helpful when deciding on a new home, here's what today's homebuyers said, in order of preference:
Virtual tour of the home
Accurate and detailed listing information
Detailed neighborhood information
High-quality listing photos
Agent-led video chat
After leveraging technology, if you have serious buyers who still want to see your house in person, keep in mind that according to the National Association of Realtors (NAR), there are ways to proceed safely. Here are a few of the guidelines, understanding that the top priority should always be to obey state and local restrictions first:
Limit in-person activity
Require guests to wash their hands or use an alcohol-based sanitizer
Remove shoes or cover with booties
Follow CDC guidance on social distancing and wearing face coverings
Getting comfortable with your agent – a true trusted advisor – taking these steps under the new safety standards might be your best plan. This is especially important if you're in a position where you need to sell your house sooner rather than later.
Nate Johnson, CMO at realtor.com ® notes:
"As real estate agents and consumers seek out ways to safely complete these transactions, we believe that technology will become an even more imperative part of how we search for, buy and sell homes moving forward."
It sounds like some of these new practices might be here to stay.
Bottom Line
In a new era of life, things are shifting quickly, and virtual strategies for sellers may be a great option. Opening your doors up to digital approaches may be game-changing when it comes to selling your house. Let's connect so you have a trusted real estate professional to help you safely and effectively navigate through all that's new when it comes to making your next move.
For years, we've all heard about the most desirable home features buyers are looking for, from upgraded kitchens to remodeled bathrooms, master suites, and more. The latest on the hotlist, however, might surprise you: home offices.
In a recent article by George Ratiu, Senior Economist with realtor.com, he notes how listings with an office are selling quickly:
"As more companies have been embracing remote work, buyers are driving demand for houses with home offices higher. Homes featuring the term 'office' are selling 9 days faster than the overall housing inventory."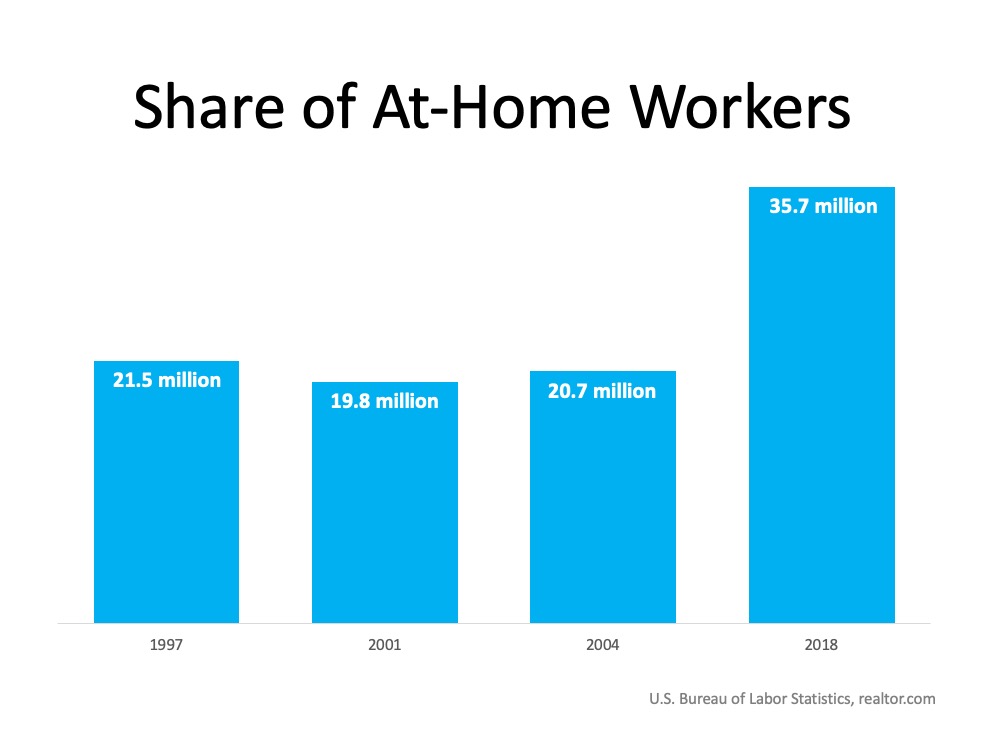 Today, more and more people are working remotely, and that's not just because the current pandemic is prompting businesses to operate virtually. According to the same piece and the most recent data available, the number of employees working at home was fairly steady from 1997 – 2004 but has been climbing ever since (see graph below):Clearly, the work-from-home population is growing, and technology is making it possible. Just last month, according to an article on Think Google, searches for telecommuting hit an all-time high, and that's certainly no surprise given our current situation.
People all over the U.S. are looking for answers on how to be most effective at home, and it's making the ideal workspace more and more desirable. In fact, best practices from seasoned work-from-home professionals, like Chris Anderson, Senior Account Executive at HousingWire, tout that having a dedicated space is a must for productivity.
With today's increasing demand for home offices, it's a great feature to highlight within your listing if you're selling a house that may meet this growing need. From bright natural light with large windows to built-in bookshelves or a quiet and secluded atmosphere, whatever makes your office space shine is worth mentioning to buyers when you're ready to list your house.
Ratiu concludes:
"For housing, the continued increase in the share of remote workers implies that demand for homes with offices or dedicated work spaces will continue to increase. The current coronavirus pandemic offers a dramatic indication of the fact that companies and employees will have to develop plans and clearer policies for remote work beyond the current crisis."

Bottom Line
Remote work may become more widely accepted as this current crisis teaches businesses throughout the country what it takes to function virtually. So, what seems like a business challenge today may be more of the norm tomorrow. With that in mind, if you have a home office, your house may be more desirable to buyers than you think.
There's a ton of real estate information available in the news today and on the Internet. It can be extremely confusing, especially in times of uncertainty like we're facing right now.
If you're thinking of buying or selling this year, you need an agent who can help you:
Make sense of this rapidly evolving housing market
Navigate everything from virtual showings to new online marketing strategies
Price your home correctly at the beginning of the selling process
Determine what to offer on your dream home without paying too much or offending the seller
Dave Ramsey, a financial guru, advises:
"When getting help with money, whether it's insurance, real estate or investments, you should always look for someone with the heart of a teacher, not the heart of a salesman."

Hiring an agent who has a finger on the pulse of the current market will make your buying or selling experience so much easier.

So, how do you identify who truly understands what's happening right now? How do you know who will take the time to simply and effectively explain what today's market conditions mean to you and your family?
Check out the agent on social media. What are they posting on Instagram, Facebook, Twitter, and more? Are they using their social media platforms to share relevant, helpful information, or are they just posting memes and recipes? The best agents are committed to educating the consumer so they can feel confident when buying or selling a home.
Bottom Line

What agents are posting online will help you determine who meets the criteria Dave Ramsey suggested you look for: someone with the heart of a teacher. Let's connect today, so you can work with a true trusted real estate professional.
We're in a changing real estate market, and life, in general, is changing too – from how we grocery shop and meal prep to the ways we can interact with our friends and neighbors. Even practices for engaging with agents, lenders, and all of the players involved in a real estate transaction are changing to a virtual format. What isn't changing, however, is one key thing that can drive the local economy: buying a home.
We're all being impacted in different ways by the effects of the coronavirus. If you're in a position to buy a home today, know that you're a major economic force in your neighborhood. And while we all wait patiently for the current pandemic to pass, there are a lot of things you can do in the meantime to keep your home search on track.
Every year the National Association of Realtors (NAR) shares a report that notes the full economic impact of home sales. This report summarizes:
"The total economic impact of real estate related industries on the state economy, as well as the expenditures that result from a single home sale, including aspects like home construction costs, real estate brokerage, mortgage lending and title insurance."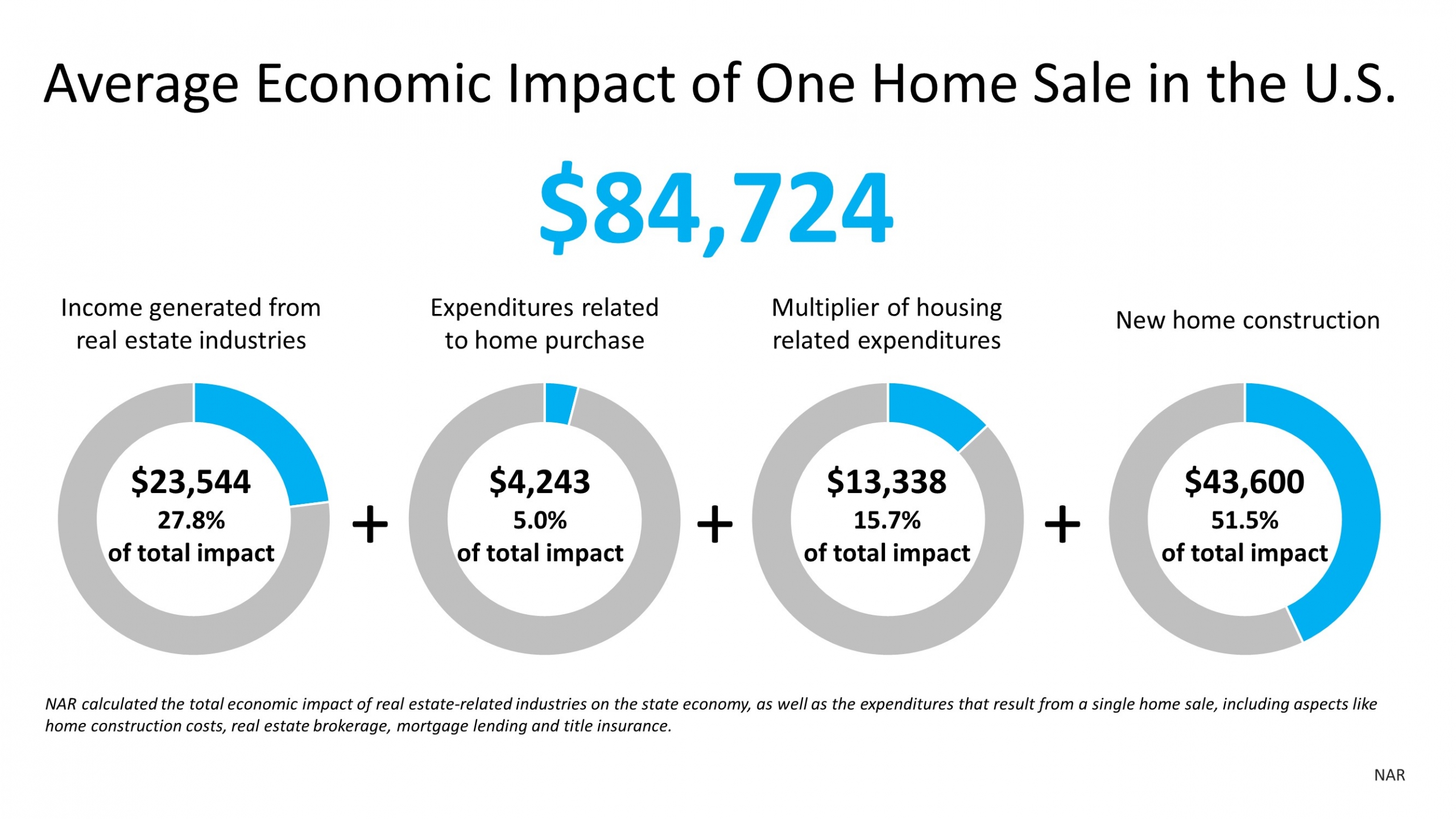 Here's the breakdown of how the average home sale boosts the economy:When you buy a home, you're making an impact. You're fulfilling your need for shelter and a place to live, and you're also generating jobs and income for the appraiser, the loan officer, the title company, the real estate agent, and many more contributors to the process. For every person or business that you work with throughout the transaction, there's also likely a team behind the scenes making it all happen, so the effort multiplies substantially. As noted above in the circle on the right, the impact is almost double when you purchase new construction, given the extra labor it requires to build the home.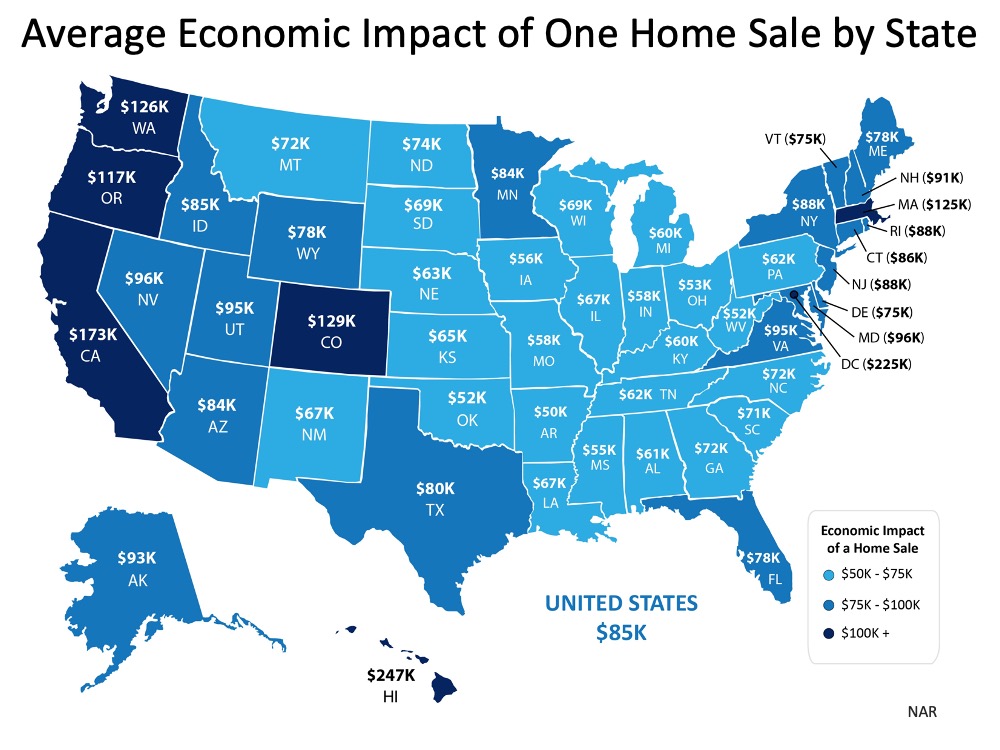 The report also breaks down the average economic impact by state:As a buyer, you have an essential need for a home – and you can make an essential impact with homeownership, too. That need for shelter, comfort, and a safe place to live will always be alive and well. And whenever you're able to act on that need, whether now or later, you'll truly be creating gains for you, your family, local business professionals, and the overall economy.
Bottom Line
Whenever you purchase a home, you're an economic driver. Even if you're not ready or able to make a move now, there are things you can do to keep your own process moving forward so you're set when the time is right for you. Let's connect to keep your home search – and your local contributions – on track.