Inventory is arguably the biggest challenge for buyers in today's housing market. There are simply more buyers actively looking for homes to purchase than there are sellers selling them, so the scale is tipped in favor of the sellers.
According to the latest Existing Home Sales Report from the National Association of Realtors (NAR), total housing inventory is down 18.8% from one year ago. Inventory is well below what was available last year, and the houses that do come to the market are selling very quickly.
Sam Khater, Chief Economist at Freddie Mac notes:
"Simply put, new housing supply is not keeping up with rising demand. We estimate that the housing market is undersupplied by 3.3 million units, and the shortage is rising by about 300,000 units a year. More than half of all states have a housing shortage."
Why is inventory so low?
There are many reasons why it's hard to find a home to buy today, stemming from an undersupply of newly constructed homes to sellers pressing pause on their moving plans due to the current health pandemic. One of the key factors making it even more challenging, however, is the amount of time current homeowners are staying in their homes. There has truly been a fundamental shift in the market that started about 10 years ago: people are staying put longer, and it's contributing to the shortage of houses for sale.
In the 2019 Profile of Home Buyers and Sellers, NAR explained:
"In 2019, the median tenure for sellers was 10 years…After 2008, the median tenure in the home began to increase by one year each year. By 2011, the median tenure reached nine years, where it remained for three consecutive years, and jumped up again in 2014 to 10 years."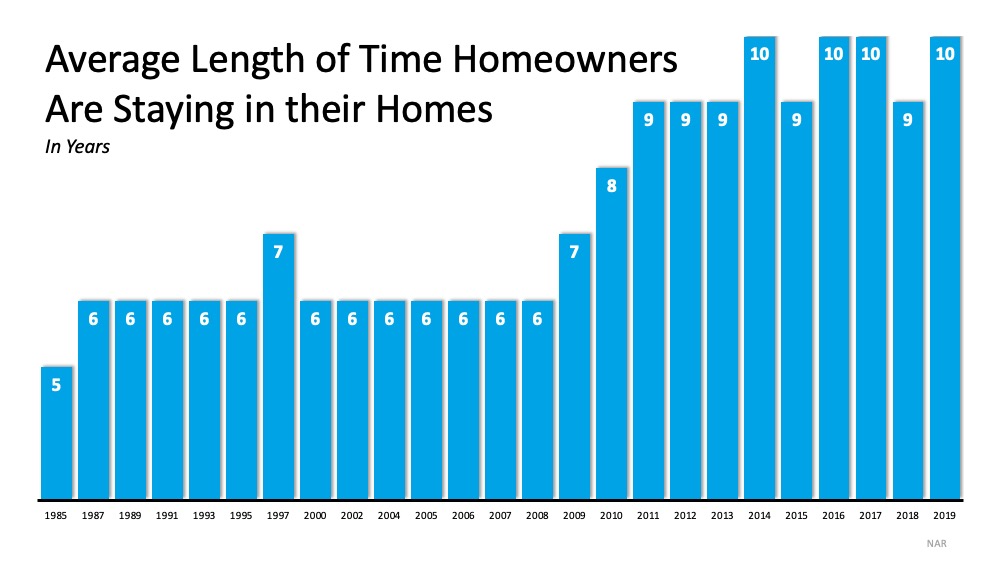 As shown in the graph below, historical data indicates that staying in a home for 5-7 years used to be the norm, until the housing bubble burst. Since 2010, that length of time has trended upward, toward 9-10 years, largely due to homeowners aiming to recoup their equity:Thankfully, with the strength the market has gained over the last 10 years, today's homeowners are in a much better equity position. Now is a fantastic time for homeowners who are ready to make a move to break the 10-year trend and sell their houses, especially while buyer demand is so high and inventory is so low. It's a prime time to sell.
In addition, with today's historically low interest rates, there's an opportunity for sellers to maintain a low monthly payment while getting more house for their money. Think: move-up opportunity, more square footage, or finding the features they're really looking for rather than doing costly renovations. With more new homes poised to enter the market this year, homeowners ready to make a move may have a golden opportunity to do so right now.
Bottom Line
There are simply not enough houses for sale today. If you're ready to leverage your equity and sell your house, let's connect today. It's a great time to move while demand for homes to buy is extremely high.
In a recent survey of home sellers by Qualtrics, 87% of respondents said they were concerned their home won't sell because of the pandemic and resulting economic recession. Of the respondents, 51% said they are "seriously worried." That concern seems reasonable considering the current condition of the economy. The data, however, is showing that home purchasers are still very active despite the disruptions American families have experienced this year.
The latest Existing Home Sales Report published by the National Association of Realtors (NAR) revealed that 340,000 single-family homes sold in this country last month. NAR's most recent Pending Sales Report (homes going into contract) surpassed last month's number by over 44%, which far exceeded analysts' projections of 15%. ShowingTime reported that appointments to see homes (both virtually and in-person) have increased in every region of the country and are up 21.4% nationwide over the same time last year.
While buyer activity is surging, the number of listings has fallen to an all-time low. Zelman Associates, in their latest residential real estate report, revealed that housing inventory as a percentage of households has fallen to 1.2%, which is half of the long-term average and lower than any other time in our history.
Bidding Wars Heating Up Again
With buyer demand growing and the supply of available homes shrinking, purchasers are again finding themselves needing to outbid other buyers. NAR, in a recent blog post, revealed:
"On average, there were about three offers on a home that closed in May, up from just about two in April 2020 and in May 2019 (2.3 offers)."
Bidding wars guarantee houses sell quickly at a price near or even slightly over the listing price.
Bottom Line
If you're thinking of selling, don't be concerned about putting your house on the market right now. There's no better time to sell an item than when demand for it is high and supply is low. It is exactly at that time when you will negotiate your best possible deal.
The pandemic has caused consumers to re-examine the components that make up the "perfect home." Many families are no longer comfortable with the locations and layouts of their existing homes. The allure of city life (more congested) seems to be giving way to either suburban or rural life (less congested). The fascination with an open floor plan seems to be fading as people are finding a need for more privacy while working from home.
Recently, news.com released a report that revealed how buyers' views of listings are leaning heavily to more suburban and rural properties. Here are the year-over-year percentage increases in views per property type:
Urban – 7%
Suburban – 13%
Rural – 16%
In the report, Javier Vivas, Director of Economic Research for realtor.com, gives these numbers some context:
"This migration to the suburbs is not a new trend, but it has become more pronounced. After several months of shelter-in-place orders, the desire to have more space and the potential for more people to work remotely are likely two of the factors contributing to the popularity of the burbs."
Realtor Magazine also just reported that the desire to move is strongest in our city markets:
"Nearly 30% of respondents living in a high-density urban area say that the pandemic is prompting them to want to move by the end of the year…This is more than double the rate of those living in rural parts of the country, where residents are much more likely to stay put rather than to relocate."
New Construction Also Seeing a Surge in Views
Since the pandemic has altered how consumers think about floor plans, builders are anticipating how future homes will change. In a recent press release by Zillow, it was explained that:
Builders believe as people spend more time at home during the pandemic, buyers are realizing which features of their homes are working and not working.
Homebuilders predict open-concept floor plans will be a thing of the past, as people now value more walls, doors, and overall privacy.
New construction, which offers the chance to personalize home features, saw its listing page views grow by 73% over last May.
The Virus is Even Impacting the Luxury Second-Home Market
It appears that COVID-19 is impacting the luxury market too. In an article released last week titled, Luxury Buyers Return to Market in Force, Danielle Hale, Chief Economist for realtor.com reported:
"Stay at home orders and social distancing have put a new value on the extra space. We're seeing this in the luxury market as well, which could mean there is renewed interest from high-end buyers to find a second-home that is within driving distance from their primary residence.

Much like the suburbs are gaining favor with home shoppers, second home markets are seeing increased interest from luxury buyers…Views of luxury properties accelerated 56% in The Hamptons, 28% in Palm Springs and 24% in Greenwich compared to January trends."
Bottom Line
It appears that a percentage of people are preparing to leave many American cities. Some of these moves will be permanent, while others will be temporary (such as a getaway to a second home). In either case, many consumers are on the move. Real estate professionals are ready and willing to help in any way they can.