When shelter-in-place orders brought the economy to a screeching halt earlier this year, many believed the residential housing market would follow suit. Countless analysts predicted buyer demand would disappear and home values would depreciate for the first time in almost a decade. That, however, didn't happen. It appears the opposite is taking place.
After the bottom fell out of the real estate market immediately following the shutdown, it has come roaring back – and seems to still be gaining steam. Here's a look at two recent reports – one from the National Association of Home Builders (NAHB) and one from the National Association of Realtors(NAR) – showing this growing strength.
Builder Confidence Hits All-Time High
Last week, it was reported that applications for new home purchases with home builders were 39% higher than in July of 2019. That has builder confidence soaring.
Each month, NAHB releases its Housing Market Index, a survey of NAHB members who rate market conditions for the sale of new homes at the present time and over the next six months, as well as prospective buyer traffic for new homes.
This month, they reported that builder confidence in the market for newly-built single-family homes increased to the highest reading in the 35-year history of the series. NAHB Chairman, Chuck Fowke, explained:
"The demand for new single-family homes continues to be strong, as low interest rates and a focus on the importance of housing has stoked buyer traffic to all-time highs…Housing has clearly been a bright spot during the pandemic and the sharp rebound in builder confidence over the summer has led NAHB to upgrade its forecast for single-family starts, which are now projected to show only a slight decline for 2020."
The number of newly constructed homes being built will be almost at the same level as last year, even though the economic shutdown crushed home building earlier in the year.
Existing Homes Are Also Selling Like Hotcakes
Last Friday, NAR released its Existing Home Sales Report. The report revealed that month-over-month sales increased by 24.7%, setting another record for the category. The Wall Street Journal reported that the increase crushed expert forecasts:
"Economists surveyed by The Wall Street Journal expected a 14.2% monthly increase in sales of previously-owned homes, which make up most of the housing market."
Home sales increased by 8.7% year-over-year.
Lawrence Yun, Chief Economist for NAR, explained how the resale market is just as hot as the new construction market:
"The housing market is well past the recovery phase and is now booming with higher home sales compared to the pre-pandemic days. With the sizable shift in remote work, current homeowners are looking for larger homes and this will lead to a secondary level of demand even into 2021."
In addition, the Housing Market Recovery Index, which is released monthly by realtor.com, also showed the market is recovering nicely. The latest indexreading was 104.8, which means the housing market is doing better than it was in January and February of this year. As a reference, the highest point in the index was a 106.5 in early March, just prior to the health crisis setting in.
Bottom Line
Both the newly constructed and existing home sale markets are posting numbers greater than a year ago. Real estate is back. If you're thinking of buying or selling, let's connect so you have the expert counsel you need along the way.
Today, home prices are appreciating. When we hear prices are going up, it's normal to think a home will cost more as the trend continues. The way the housing market is positioned today, however, low mortgage rates are actually making homes more affordable, even as prices rise. Here's why.
According to the Mortgage Monitor Report from Black Knight:
"While home prices have risen for 97 consecutive months, July's record-low mortgage rates have made purchasing the average-priced home the most affordable it's been since 2016."
How is that possible?
Black Knight continues to explain:
"As of mid-July, it required 19.8% of the median monthly income to make the mortgage payment on the average-priced home purchase, assuming a 20% down payment and a 30-year mortgage. That was more than 5% below the average of 25% from 1995-2003.

This means it currently requires a $1,071 monthly payment to purchase the average-priced home, which is down 6% from the same time last year, despite the average home increasing in value by more than $12,000 during that same time period.

In fact, buying power is now up 10% year-over-year, meaning the average home buyer can afford nearly $32,000 more home than they could at the same time last year, while keeping their monthly payment the same."
This is great news for the many buyers who were unable to purchase last year, or earlier in the spring due to the slowdown from the pandemic. By waiting a little longer, they can now afford 10% more home than they could have a year ago while keeping their monthly mortgage payment unchanged.
With mortgage rates hitting all-time lows eight times this year, it's now less expensive to borrow money, making homes significantly more affordable over the lifetime of your loan. Mark Fleming, Chief Economist at First American, shares what low mortgage rates mean for affordability:
"In July, house-buying power got a big boost as the 30-year, fixed mortgage rate made history by moving below three percent. That drop in the mortgage rate from 3.23 percent in May to 2.98 percent in July increased house-buying power by nearly $15,000."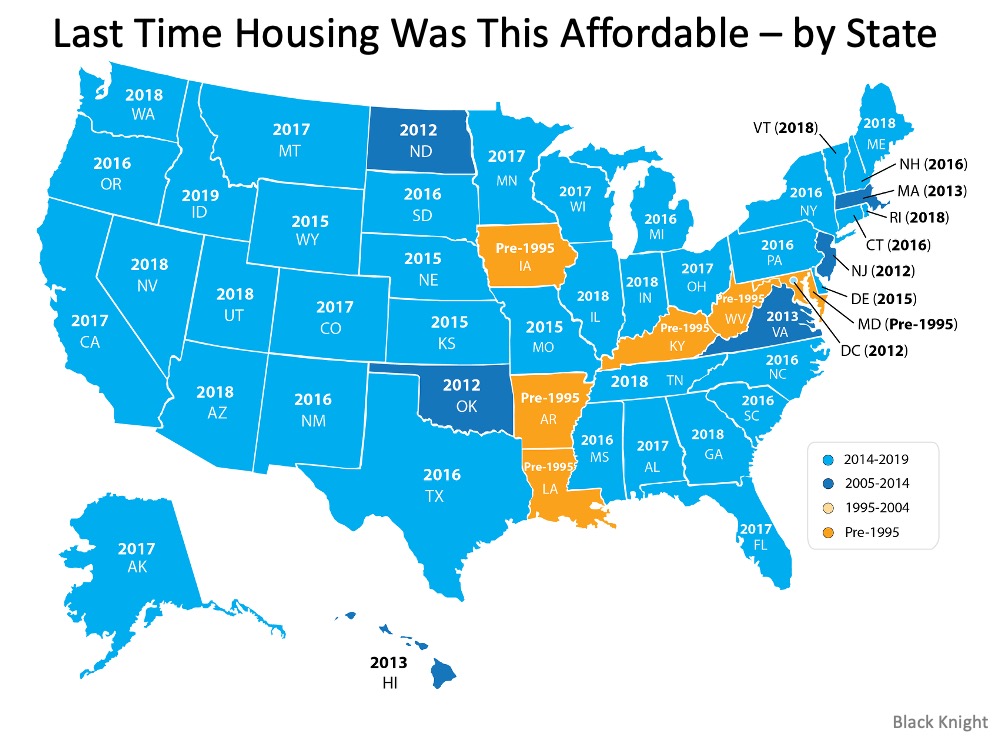 The map below shows the last time homes were this affordable by state:In six states – Arkansas, Iowa, Kentucky, Louisiana, Maryland, and West Virginia – homes have not been this affordable in more than 25 years.
Bottom Line
If you're thinking of making a move, now is a great time to take advantage of the affordability that comes with such low mortgage rates. Whether you're thinking of purchasing your first home or moving into a new one and securing a significantly lower mortgage rate than you may have on your current house, let's connect today to determine your next steps in the process.
Today's housing market is making a truly impressive turnaround, and it's also setting up some outstanding opportunities for buyers and sellers. Whether you're thinking of buying or selling a home this year, there are perks today that are rarely available, and definitely worth looking into. Here are the top two.
The Biggest Perk for Buyers: Low Mortgage Rates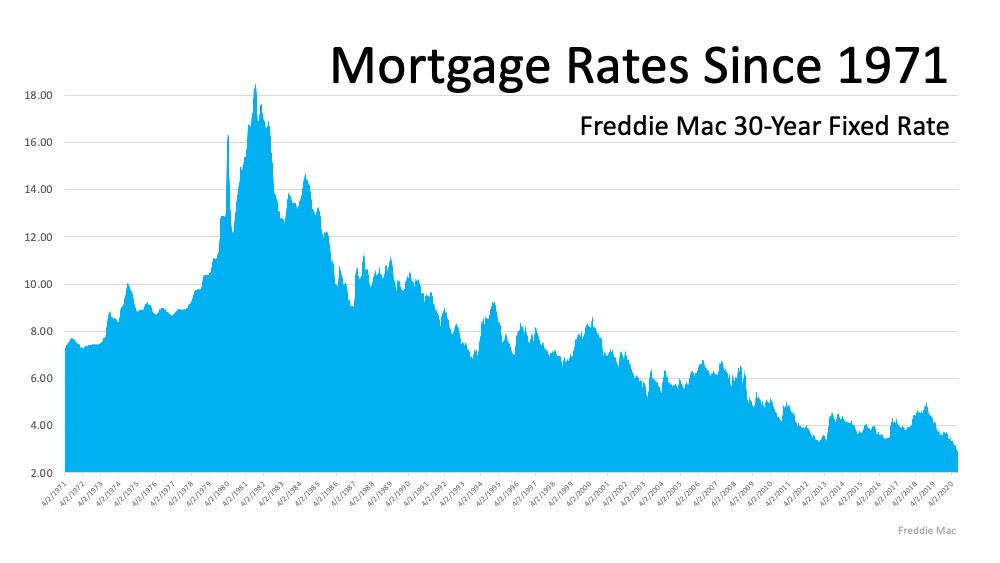 The most impressive buyer incentive today is the average mortgage interest rate. Just last week, mortgage rates hit an all-time low for the eighth time this year. The 30-year fixed-rate is now averaging 2.88%, the lowest rate in the survey's history, which dates back to 1971 (See graph below):This is a huge advantage for buyers. To put it in perspective, it means that today you can get a lower rate than any of the past two generations of homebuyers in your family if you decide to purchase at this time.
In addition, the National Mortgage News notes how today's buyers have increasing purchasing power due to these low mortgage rates:
"Purchasing power rose 10% year-over-year…With interest rates hitting record lows, buyers were able to afford $32,000 "more house" as of July 23 than they could the year before with the same monthly payment."
This is a great perk for buyers who are hoping to potentially get more for their money in a home, something many are considering today as they re-evaluate the amount of space they ideally need for their families. It is an opportunity not seen in 50 years, and one not to be missed if the time is right for you to buy a home.
The Biggest Perk for Sellers: Low Inventory
Today, there are simply not enough houses on the market for the number of buyers looking to purchase them. According to the National Association of Realtors (NAR):
"Total housing inventory at the end of June totaled 1.57 million units, up 1.3% from May, but still down 18.2% from one year ago (1.92 million)."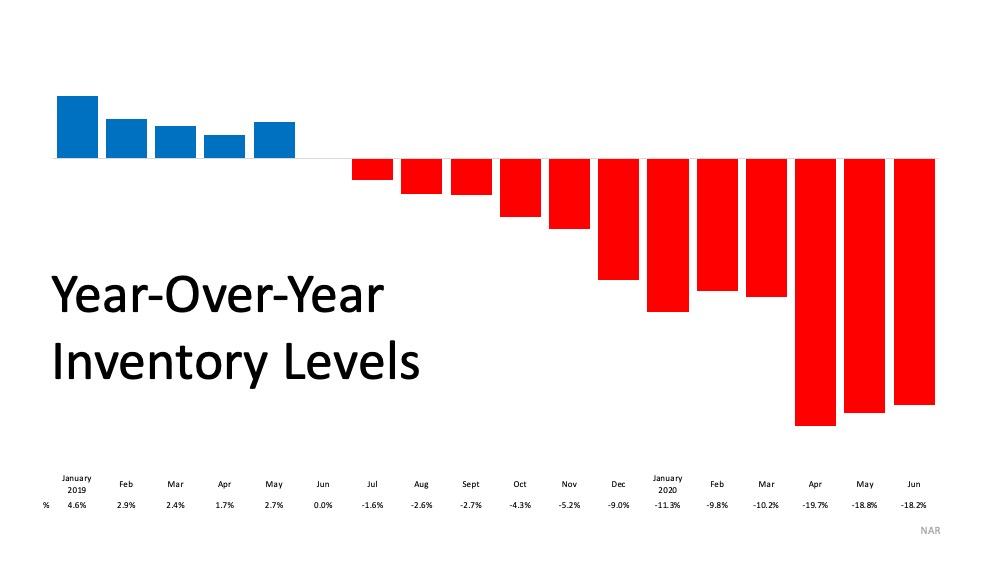 The red bars in the graph below indicate that the inventory of homes coming into the market continues to decline. It was low as we entered the pandemic and has reduced even further this year. Houses today are selling faster than they're being listed, and that's creating an even greater supply shortage (See graph below):The lack of inventory has been a challenging situation for a while now, and with low mortgage rates fueling buyer demand, inventory is even harder for buyers to find today. Buyers are eager to purchase, and because of the shortage of homes available, they're encountering more bidding wars. This is one of the factors keeping home prices strong, an advantage for sellers. Lawrence Yun, Chief Economist for NAR notes that this trend may continue, too:
"Home prices rose during the lockdown and could rise even further due to heavy buyer competition and a significant shortage of supply."
With low inventory and high buyer demand, homeowners can potentially earn an increasing profit on their houses and sell them quickly in this sizzling summer market.
Bottom Line
Whether you're thinking about buying or selling at home, there are some key perks available right now. Let's connect today to discuss how they may play to your advantage in our local market.