One of the major story lines over the last year is how well the residential real estate market performed. One key metric in the spotlight is home price appreciation. According to the latest indices, home prices are skyrocketing this year.
Here are the latest percentages showing the year-over-year increase in home price appreciation:
The dramatic increases are seen at every price point and in all regions of the country.
Increases Are Across Every Price Point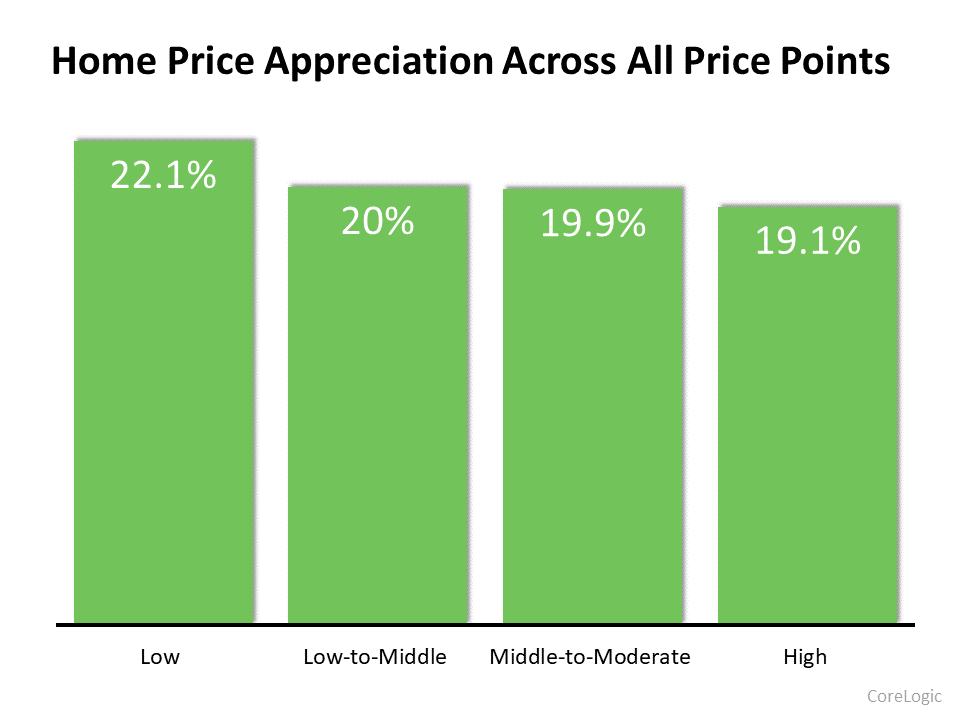 According to the latest Home Price Index from CoreLogic, each price range is seeing at least a 19% increase year-over-year:
Increases Are Across Every Region in the Country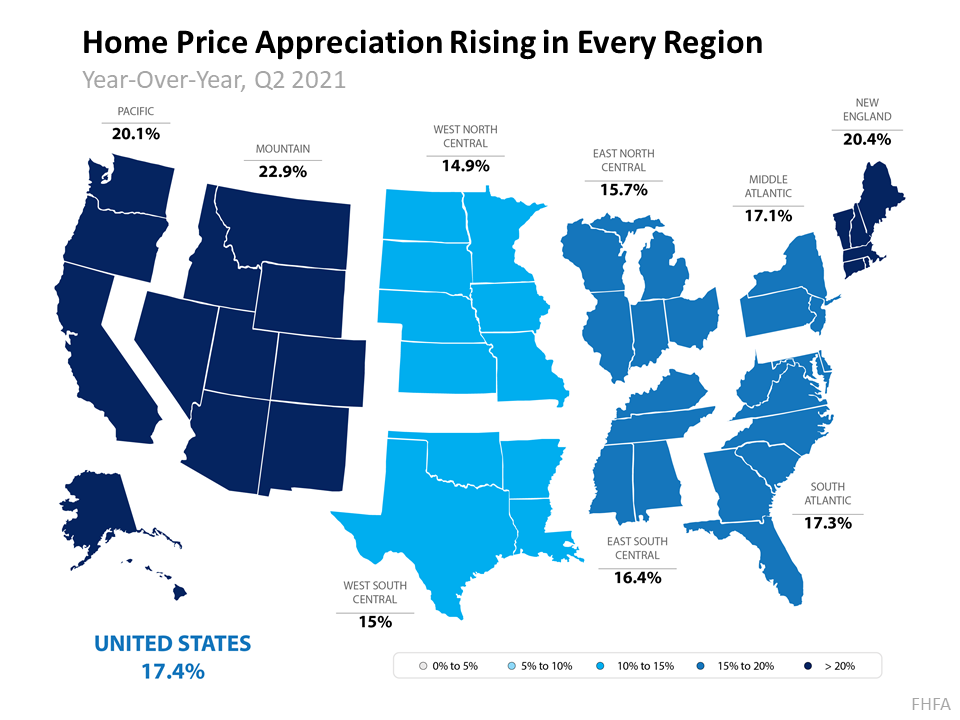 Every region in the country is experiencing at least a 14.9% increase in home price appreciation, according to the Federal Housing Finance Agency (FHFA):
Increases Are Across Each of the Top 20 Metros in the Country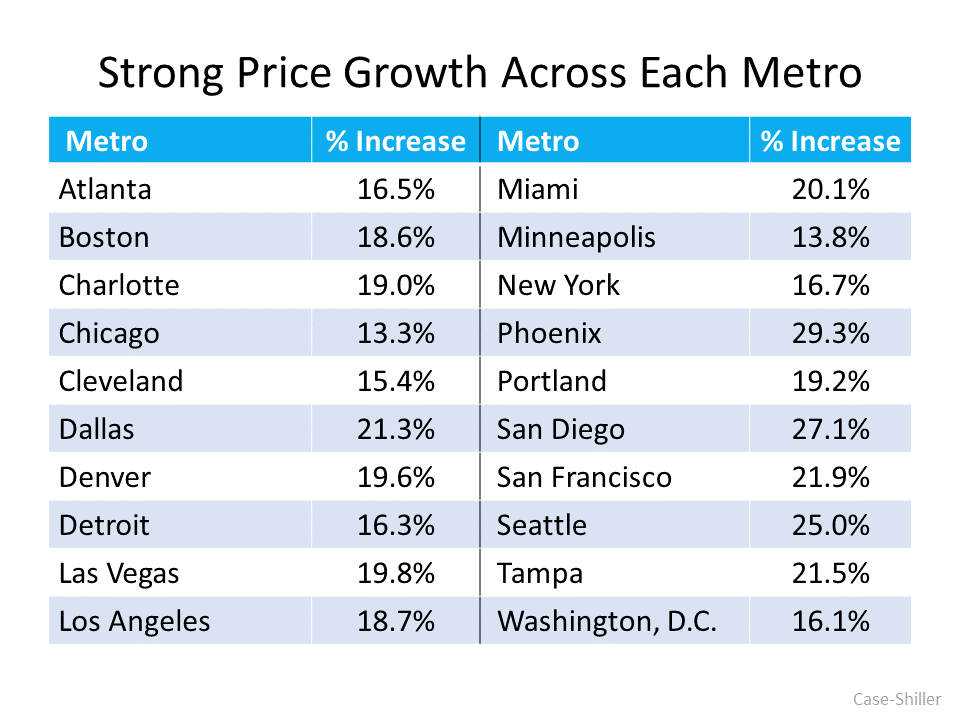 According to the U.S. National Home Price Index from S&P Case-Shiller, every major metro is seeing at least a 13.3% growth in prices (see graph below):
What About Price Appreciation in 2022?
Prices are the result of the balance between supply and demand. The demand for single-family homes has been strong over the last 18 months. The supply of houses available for sale was near historic lows. However, there's some good news on the supply side. Realtor.com reports:
"432,000 new listings hit the national housing market in August, an increase of 18,000 over last year."
There will, however, still be a shortage of supply compared to demand in 2022. CoreLogic reveals:
"Given the widespread demand and considering the number of standalone homes built during the past decade, the single-family market is estimated to be undersupplied by 4.35 million units by 2022."
Yet, most forecasts call for home price appreciation to moderate in 2022. The Home Price Expectation Survey, a survey of over 100 economists, investment strategists, and housing market analysts, calls for a 5.12% appreciation level next year. Here are the 2022 home appreciation forecasts from the four other major entities:
Price appreciation is expected to slow in 2022 when compared to the record highs of 2021. However, it is still expected to be greater than the annual average of 4.1% over the last 25 years.
Bottom Line
If you owned a home over the past year, you've seen your household wealth grow substantially, and you'll see another nice boost in 2022. If you're thinking of buying, consider buying now as prices are forecast to continue increasing through at least next year.
If you're trying to decide when to sell your house, there may not be a better time to list than right now. The ultimate sellers' market we're in today won't last forever. If you're thinking of making a move, here are four reasons to put your house up for sale sooner rather than later.
1. Your House Will Likely Sell Quickly
According to the Realtors Confidence Index released by the National Association of Realtors (NAR), homes continue to sell quickly – on average, they're selling in just 17 days. As a seller, that's great news for you.
Average days on market is a strong indicator of buyer demand. And if homes are selling quickly, buyers have to be more decisive and act fast to submit their offer before other buyers swoop in.
2. Buyers Are Willing To Compete for Your House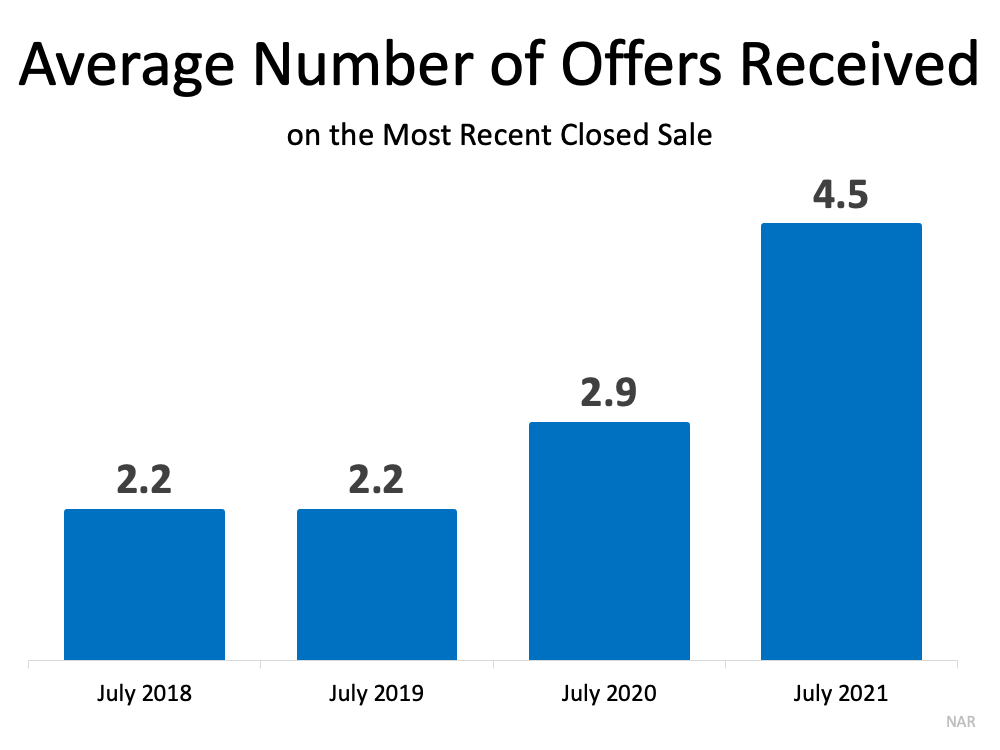 In addition to selling quickly, homes are receiving multiple offers. That same survey shows sellers are seeing an average of 4.5 offers, and they're competitive ones. The graph below shows how the average number of offers right now compares to previous years:Buyers today know bidding wars are a likely outcome, and they're coming prepared with their best offer in hand. Receiving several offers on your house means you can select the one that makes the most sense for your situation and financial well-being.
3. When Supply Is Low, Your House Is in the Spotlight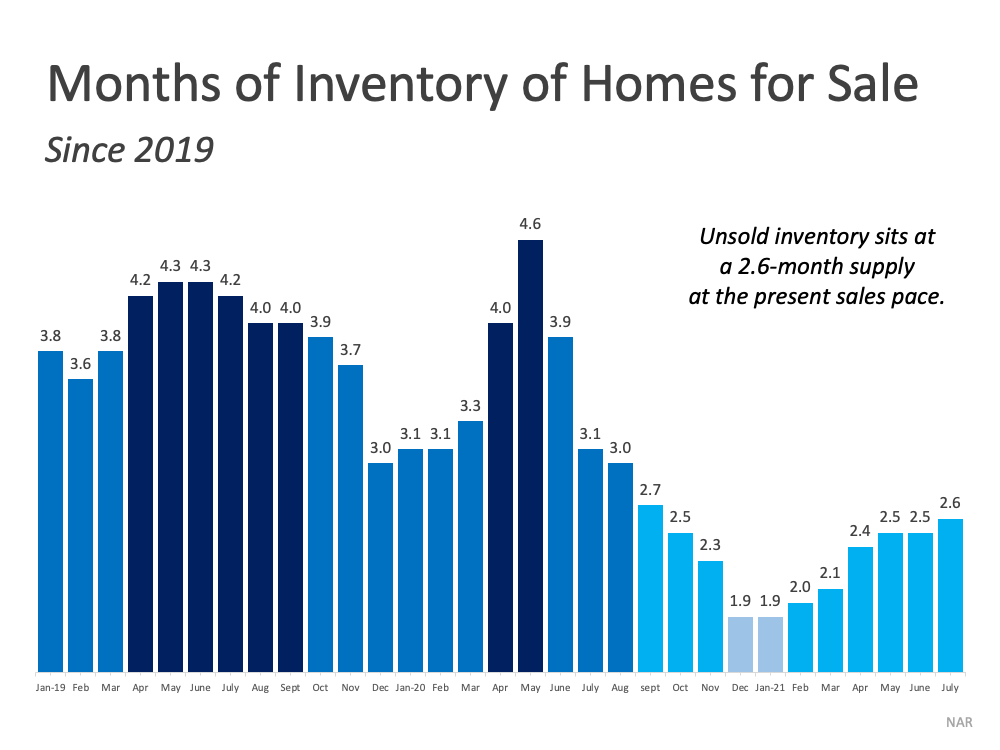 One of the most significant challenges for motivated buyers is the current inventory of homes for sale. Though it's improving, it remains at near-record lows. The chart below shows how today's low inventory stacks up against recent years. The lighter the blue is in the chart, the lower the housing supply.If you're looking to take advantage of buyer demand and get the most attention for your house, selling now before more listings come to the market might be your best option.
4. If You're Thinking of Moving Up, Now May Be the Time
If your current home no longer meets your needs, it may be the perfect time to make a move. Today, homeowners are gaining a significant amount of wealth through growing equity. You can leverage that equity, plus current low mortgage rates, to power your move now. But these near-historic low rates won't last forever.
Experts forecast interest rates will rise. In their forecast, Freddie Mac says:
"While we forecast rates to increase gradually later in the year, we don't expect to see a rapid increase. At the end of the year, we forecast 30-year rates will be around 3.4%, rising to 3.8% by the fourth quarter of 2022."
When rates rise, even modestly, it'll impact your monthly payment and by extension your purchasing power.
Bottom Line
Don't delay. The combination of housing supply challenges, low mortgage rates, and extremely motivated buyers gives sellers a unique opportunity this season. If you're thinking about making a move, let's chat about why it makes sense to list your house now.