As a renter, you're constantly faced with the same dilemma: keep renting for another year or purchase a home? Your answer depends on your current situation and future plans, but there are a number of benefits to homeownership every renter needs to consider.
Here are a few things you should think about before you settle on renting for another year.
1. Rents Are Rising Quickly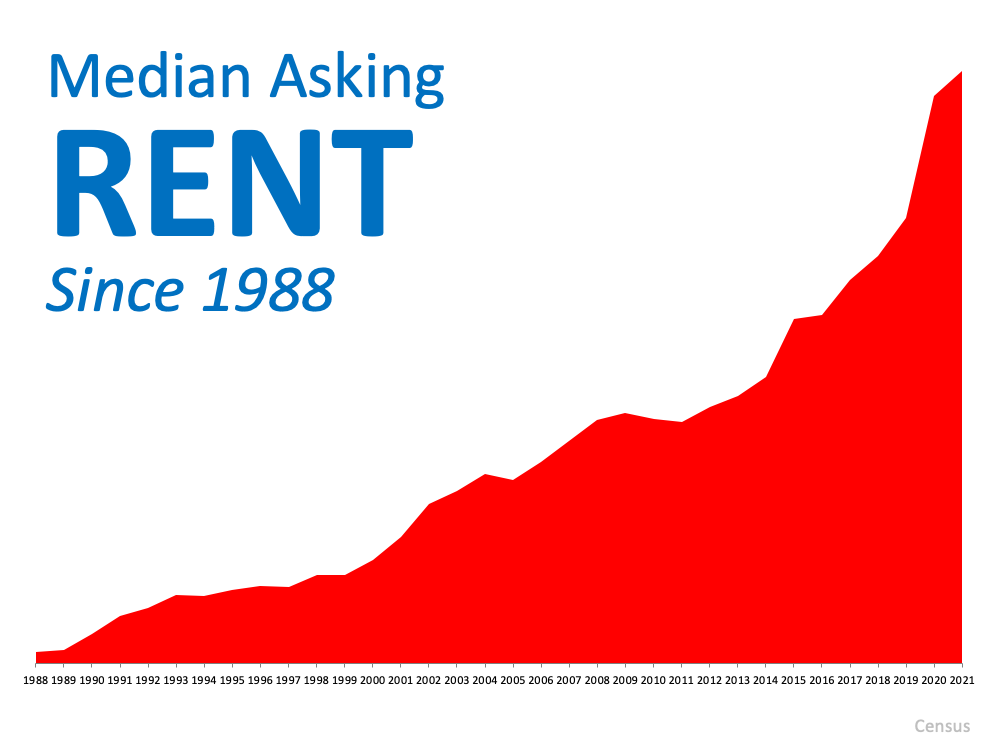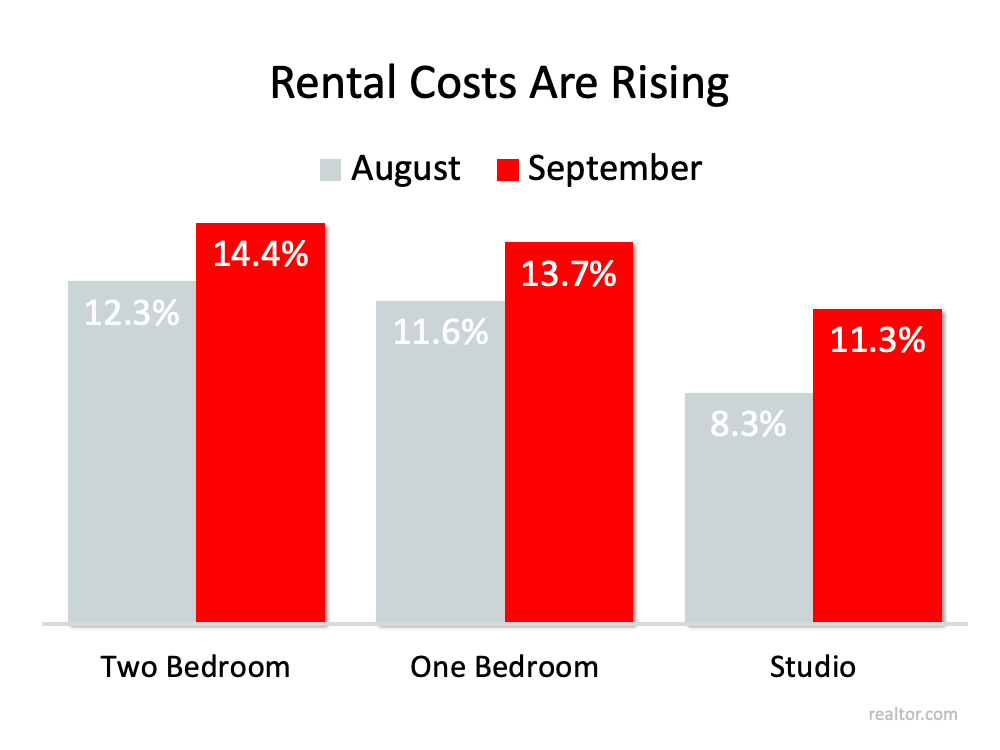 Rent increasing each year isn't new. Looking back at Census data confirms rental prices have gone up consistently for decades (see graph below):If you're a renter, you're faced with payments that continue to climb each year. Realtor.com recently shared the September Rental Report, and it shows price increases accelerating from August to September (see graph below):As the graph shows, rents are still on the rise. It's important to keep this in mind when the time comes for you to sign a new lease, as your monthly rental payment may increase substantially when you do.
2. Renters Miss Out on Equity Gains
One of the most significant advantages of buying a home is the wealth you build through equity. This year alone, homeowners gained a substantial amount of equity, which, in turn, grew their net worth. As a renter, you miss out on this wealth-building tool that can be used to fund your retirement, buy a bigger home, downsize, or even achieve personal goals like paying for an education or starting a new business.
3. Homeowners Can Customize to Their Heart's Content
This is a big decision-making point if you want to be able to paint, renovate, and make home upgrades. In many cases, your property owner determines these selections and prefers you don't alter them as a renter. As a homeowner, you have the freedom to decorate and personalize your home to truly make it your own.
4. Owning a Home May Provide Greater Mobility than You Think
You may choose to rent because you feel it provides greater flexibility if you need to move for any reason. While it's true that selling a home may take more time than finding a new rental, it's important to note how quickly houses are selling in today's market. According to the National Association of Realtors (NAR), the average home is only on the market for 17 days. That means you may have more flexibility than you think if you need to relocate as a homeowner.
Bottom Line
Deciding if it's the right time for you to buy is a personal decision, and the timing is different for everyone. However, if you'd like to learn more about the benefits of homeownership, let's connect so you can make a confident, informed decision and have a trusted advisor along the way.
The purpose of Veterans Affairs (VA) home loans is to provide a pathway to homeownership for those who have sacrificed so much by serving our nation. As the Veterans Administration says of the program:
"The objective of the VA Home Loan Guaranty program is to help eligible Veterans, active-duty personnel, surviving spouses, and members of the Reserves and National Guard purchase, retain, and adapt homes in recognition of their service. . . ."
For over 75 years, VA home loans have provided millions of veterans and their families the opportunity to purchase their own homes.
2020 Data on VA Home Loans
1,246,817 home loans are guaranteed by the Veterans Administration
The average VA loan amount totals $301,044
178,171 of those using a VA Loan are first-time homebuyers
As we reflect on their sacrifice and honor our nation's veterans, it's important to ensure all veterans know the full extent of benefits VA home loans offer. As Jeff London, Director of the VA Home Loan Program, says:
"VA loans offer an extraordinary opportunity for veterans because of lower interest rates, lower monthly payments, no or low-down payments, and no private mortgage insurance."
Those who qualify for a VA home loan are eligible for the following:
Borrowers can often purchase a home with no down payment. In 2020, 350,094 individuals using a VA Loan were able to purchase their homes without putting money down.
Many other loans with down payments under 20% require Private Mortgage Insurance (PMI). VA Loans do not require PMI, which means veterans can save on their monthly housing costs.
Finally, VA-Backed Loans often offer the most competitive terms and interest rates.
Bottom Line
One way we can honor and thank our veterans this year is to ensure they have the best information about the benefits of VA home loans. Homeownership is the American Dream. Our veterans sacrifice so much in service to our nation and deserve to achieve their homeownership goals. Thank you for your service.
With forbearance plans coming to an end, many are concerned the housing market will experience a wave of foreclosures similar to what happened Why a Wave of Foreclosures Is Not on the Way
There are fewer homeowners in trouble this time
After the last housing crash, about 9.3 million households lost their homes to a foreclosure, short sale, or because they simply gave it back to the bank.
As stay-at-home orders were issued early last year, the fear was the pandemic would impact the housing industry in a similar way. Many projected up to 30% of all mortgage holders would enter the forbearance program. In reality, only 8.5% actually did, and that number is now down to 2.2%.
As of last Friday, the total number of mortgages still in forbearance stood at 1,221,000. That's far fewer than the 9.3 million households that lost their homes just over a decade ago.
Most of the mortgages in forbearance have enough equity to sell their homes
Due to rapidly rising home prices over the last two years, of the 1.22 million homeowners currently in forbearance, 93% have at least 10% equity in their homes. This 10% equity is important because it enables homeowners to sell their homes and pay the related expenses instead of facing the hit on their credit that a foreclosure or short sale would create.
The remaining 7% might not have the option to sell, but if the entire 7% of those 1.22 million homes went into foreclosure, that would total about 85,400 mortgages. To give that number context, here are the annual foreclosure numbers for the three years leading up to the pandemic:
2017: 314,220
2018: 279,040
2019: 277,520
The probable number of foreclosures coming out of the forbearance program is nowhere near the number of foreclosures that impacted the housing crash 15 years ago. It's actually less than one-third of any of the three years prior to the pandemic.
The current market can absorb listings coming to the market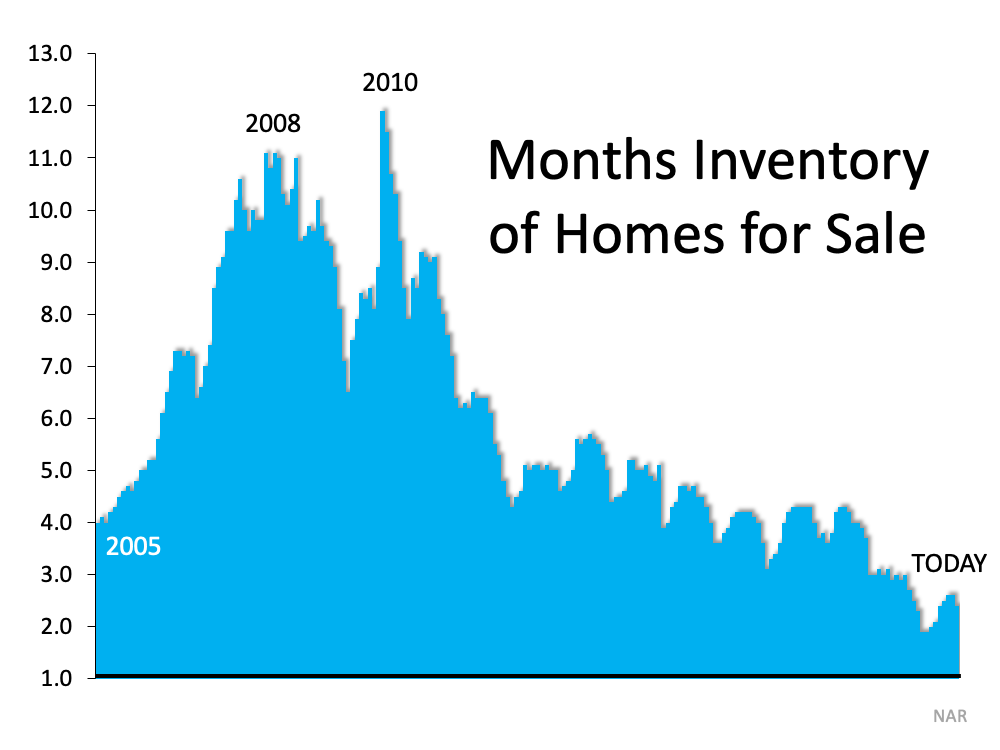 When foreclosures hit the market back in 2008, there was an oversupply of houses for sale. It's exactly the opposite today. In 2008, there was over a nine-month supply of listings on the market. Today, that number is less than a three-month supply. Here's a graph showing the difference between the two markets.
Bottom Line
The data indicates why Ivy Zelman, founder of the major housing market analytical firm Zelman and Associates, was on point when she stated:
"The likelihood of us having a foreclosure crisis again is about zero percent."