As you plan out your goals for the year, moving up to your dream home may top the list. But, how do you know when to make your move? You want to time it just right so you can get the most out of the sale of your current house. You also want to know you're making a good investment when you buy your new home. What you may not realize is, that opportunity to get the best of both worlds is already here.
You don't want to wait until spring to spring into action. The current market conditions make this winter an ideal time to move. Here's why.
1. The Number of Homes on the Market Is Still Low
Today's limited supply of houses for sale is putting sellers in the driver's seat. There are far more buyers in the market than there are homes available, and that means buyers are eagerly waiting for your house. Listing your house now makes it the center of attention. As a seller, that means when it's priced correctly, you can expect it to sell quickly and get multiple strong offers this season. Just remember, experts project more inventory will come to market as we move through the winter months. The realtor.com 2022 forecast says this:
"After years of declining, the inventory of homes for sale is finally expected to rebound from all-time lows."
Selling now may help you maximize the return on your investment before your house has to face more competition from other sellers.
2. Your Equity Is Growing in Record Amounts
Current homeowners are sitting on record amounts of equity thanks to today's home price appreciation. According to the latest report from CoreLogic, the average homeowner gained $56,700 in equity over the past 12 months.
That much equity can open doors for you to make a move. If you've been holding off on selling because you're worried about how rising prices will impact your own home search, rest assured your equity can help fuel your next move. It may be just what you need to cover a large portion – if not all – of the down payment on your next purchase.
3. While Rising, Mortgage Rates Are Still Historically Low
In January of last year, mortgage rates hit the lowest point ever recorded. Today, rates are starting to rise, but that doesn't mean you've missed out on locking in a low rate. Current mortgage rates are still far below what they've been in recent decades:
In the 2000s, the average mortgage rate was 6.27%
In the 1990s, the average rate was 8.12%
Even with mortgage rates rising above 3%, they're still worth taking advantage of. You just want to do so sooner rather than later. Experts are projecting rates will continue to rise throughout this year, and when they do, it'll cost you more to purchase your next home.
4. Home Prices Are Going To Keep Rising with Time
According to industry leaders, home prices will also continue appreciating this year. While experts are forecasting more moderate home price growth than last year, it's important to note prices will still be moving in an upward direction throughout 2022.
What does that mean for you? If you're selling so you can move into a bigger home or downsize to the home of your dreams, you want to consider moving now before rates and prices rise further. If you're ready, you have an opportunity to get ahead of the curve by purchasing your next home before rates and prices climb higher.
Bottom Line
If you're considering selling to move up or downsize, this may be your moment, especially with today's low mortgage rates and limited inventory. Let's connect today to get set up for homebuying success this year.
After almost two years of double-digit increases, many experts thought home price appreciation would decelerate or happen at a slower pace in the last quarter of 2021. However, the latest Home Price Insights Report from CoreLogic indicates while prices may have plateaued, appreciation has definitely not slowed. The following graph shows year-over-year appreciation throughout 2021. December data has not yet been released.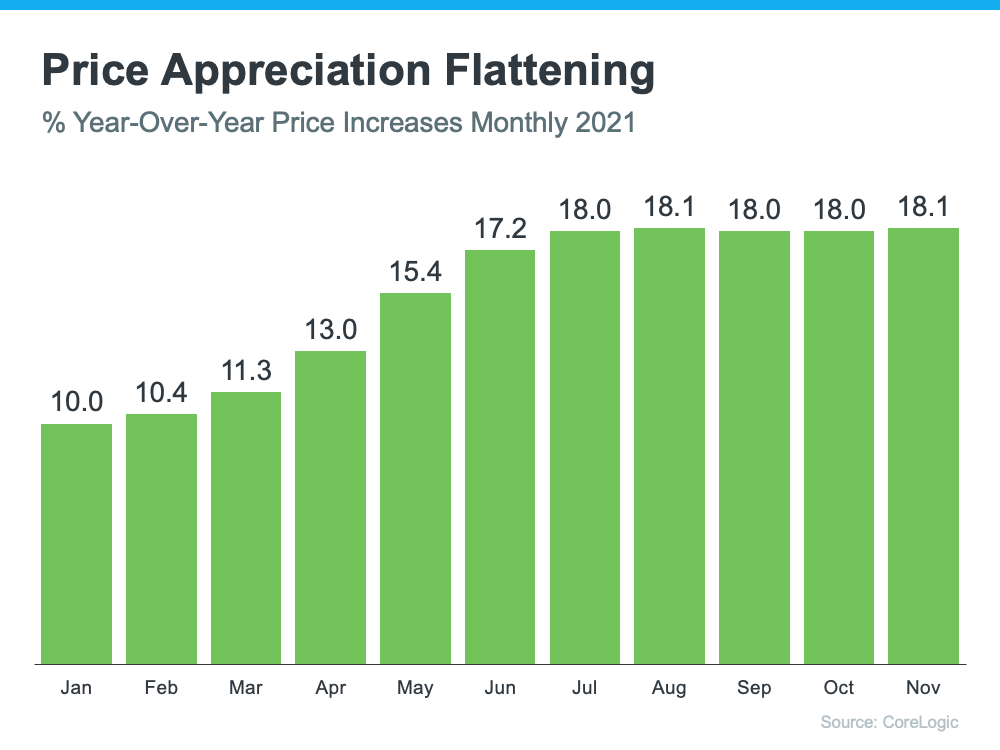 As the graph shows, appreciation has remained steady at around 18% over the last five months.
In addition, the latest S&P Case-Shiller Price Index and the FHFA Price Index show a slight deceleration from the same time last year – it's just not at the level that was expected. However, they also both indicate there's continued strong price growth throughout the country. FHFA reports all nine regions of the country still experienced double-digit appreciation. The Case-Shiller 20-City Index reveals all 20 metros had double-digit appreciation.
Why Haven't We Seen the Deeper Deceleration Many Expected?
Experts had projected the supply of housing inventory would increase in the last half of 2021 and buyer demand would decrease, as it historically does later in the year. Since all pricing is subject to supply and demand, it seemed that appreciation would wane under those conditions.
Buyer demand, however, did not slow as much as expected, and the number of listings available for sale dropped instead of improved. The graph below uses data from realtor.com to show the number of available listings for sale each month, including the decline in listings at the end of the year.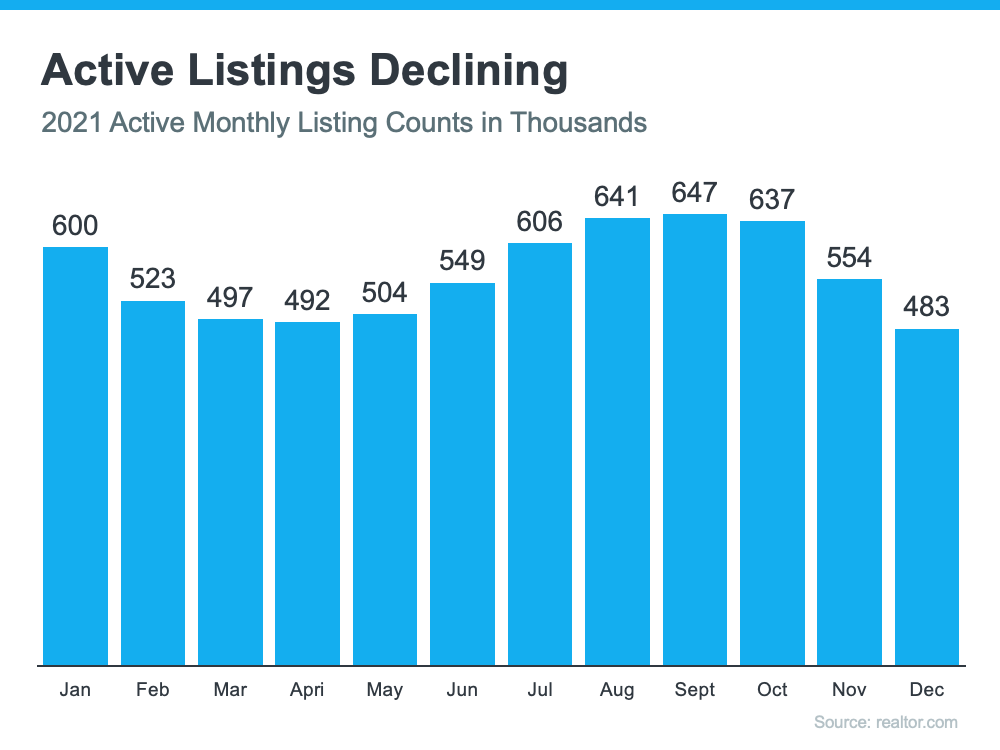 Here are three reasons why the number of active listings didn't increase as expected:
1. There hasn't been a surge of foreclosures as the forbearance program comes to an end.
2. New construction slowed considerably because of supply chain challenges.
3. Many believed more sellers would put their houses on the market once the concerns about the pandemic began to ease. However, those concerns have not yet disappeared. A recent article published by com explains:
"Before the omicron variant of COVID-19 appeared on the scene, the 2021 housing market was rebounding healthily from previous waves of the pandemic and turned downright bullish as the end of the year approached. . . . And then the new omicron strain hit in November, followed by a December dip in new listings. Was this sudden drop due to omicron, or just the typical holiday season lull?"
No one knows for sure, but it does seem possible.
Bottom Line
Home price appreciation might slow (or decelerate) in 2022. However, based on supply and demand, you shouldn't expect the deceleration to be swift or deep.
As we move into 2022, both buyers and sellers are wondering, what's next? Will there be more homes available to buy? Will prices keep climbing? How high will mortgage rates go? For the answer to those questions and more, we turn to the experts. Here's a look at what they say we can expect in 2022.
Odeta Kushi, Deputy Chief Economist, First American:
"Consensus forecasts put rates at about 3.7% by the end of next year. So, that's still historically low, but certainly higher than they are today."
Danielle Hale, Chief Economist, realtor.com:
"Affordability will increasingly be a challenge as interest rates and prices rise, but remote work may expand search areasand enable younger buyers to find their first homes sooner than they might have otherwise. And with more than 45 million millennials within the prime first-time buying ages of 26-35 heading into 2022, we expect the market to remain competitive."
Lawrence Yun, Chief Economist, National Association of Realtors (NAR):
"With more housing inventory to hit the market, the intense multiple offers will start to ease. Home prices will continue to rise but at a slower pace."
George Ratiu, Manager of Economic Research, realtor.com:
"We also expect a growing number of homeowners to bring properties to market, taking some pressure off high prices and offering buyers more options."
Mark Fleming, Chief Economist, First American:
"Strong demographic demand will continue to act as the wind in the housing market's sails."
What Does This Mean for Buyers?
Hope is on the horizon for 2022. You should see your options grow as more homes are listed and some of the peak intensity of buyer competition starts to ease. Just remember, rising rates and prices are a great motivator for you to find the home of your dreams sooner rather than later so you can buy while today's affordability is still in your favor.
What Does This Mean for Sellers?
Make no mistake – this sellers' market will remain in 2022 as home prices are projected to continue climbing, just at a more moderate pace. Selling your house while buyer demand is so high will truly put you in the driver's seat. But don't wait too long. With more listings projected to become available, your ideal window of opportunity to stand out from the crowd won't last forever. Work with an agent who knows your local market and current inventory conditions to ensure you have the support you need to make an educated and informed decision about selling in the coming year.
Bottom Line
If you're thinking of buying or selling, 2022 may be your year. Let's connect to discuss your goals and the unique opportunities you have in today's housing market.
The city team is hard at work putting together plans to accomplish a lot in 2022, but I want to take a moment to reflect on what we achieved in 2021. From beach to bay, we were able to continue our ambitious program of infrastructure improvements, and we provided a lot of new services and amenities to improve the quality of life in Ocean City. None of this would be possible without an experienced and dedicated city team and the full support of our residents and taxpayers. I want to thank you all for making so many good things happen.
Our success can be measured not only delivering on plans but also in being prepared to react to the unexpected. That's what good government is all about. For a second year, the global pandemic provided exceptional challenges. But I'm proud of how we responded to that and other emergent matters:
At a time when COVID vaccine appointments were exceptionally difficult to secure, a city team was able to arrange them for more than 400 seniors in Ocean City.
Our Community Services team hosted virtual events like our annual Martin Luther King Ceremony before the safe return of live events like the Fourth of July, Night in Venice, Fall Block Party and even a new Dog Day on the boardwalk.
Ocean City firefighters were able to protect the boardwalk and neighboring properties as a fire destroyed Playland's Castaway Cove. The city has worked with the owners on plans to rebuild the iconic amusement center.
With the state legalizing recreational marijuana, City Council swiftly passed an ordinance banning dispensaries in town and protecting the city's brand as "America's Greatest Family Resort." We hosted a public town hall explaining how this legislation and juvenile justice reform could affect Ocean City.
Our police department worked with local parents to organize a bike rally to establish positive relationships with young residents who had been riding recklessly on their bicycles.
We provided detailed information on how citizens can comment on plans for an offshore wind energy project during a critical review period. I also encouraged Ocean Wind to organize a town hall meeting to provide information on its plans.
The city's Office of Emergency Management continued to provide alerts to storm events and options for safe parking to protect vehicles.
Enforcement of our Historic District ordinances helped save a historic home on Wesley Avenue.
Perhaps the most consequential work we do is with flood mitigation. Our comprehensive plans are ongoing:
We held a neighborhood meeting in November to share information on plans for a pumping station, a new drainage system and utility upgrades for West 17th Street. Work will begin early in the new year.
We completed designs for a neighborhood drainage project from 10th Street to 14th Street in the area from West Avenue to Bay Avenue. We are currently seeking infrastructure grant funding and working on interim measures to improve these roadways.
We recently awarded a contract for design of a second round of flood mitigation improvements for the Merion Park neighborhood.
We eliminated a pinch point in the drainage system on the beach block at Fifth Street where flooding was occurring.
Bulkheads were installed at Clubhouse Lagoon, Walton Place, Tonga Harbor, and work is expected to begin shortly at Eighth Street.
The city was able to secure a $3 million grant for the elevation of 52 units at the Ocean Aire Condominiums at 43rd Street and West Avenue, and work has begun.
Temporary measures have helped flooding at 25th Street and Haven Avenue and at 22nd Street and West Avenue.
The city authorized a study using piezometers to learn more about the relationship between groundwater flooding and tidal flooding.
The city completed plans for flood mitigation along Waterway Road by elevating parts of the road and re-routing water to a new outfall.
At the same time, the city continued its program for other road improvements, including:
Repaving of West Avenue from 26th Street to 34th Street with elimination of antiquated siphon drain systems along 26th Street, 29th Street and 31st Street. The project was funded in part by a municipal aid grant.
A network of streets along both sides of Gardens Parkway at the north end were improved and repaved.
A pedestrian-friendly crosswalk was added at 20th Street and Bay Avenue to improve safety for students traveling to and from Ocean City Intermediate School.
Work has begun to improve and repave Asbury Avenue from 36th Street to 39th Street with elimination of siphon drains on 38thStreet.
The city received a grant for elevation and repaving of West Avenue from North Street to Ninth Street.
Cape May County finished its sewer main replacement and repaving of Bay Avenue from Eighth Street to 31st Street.
Utility companies completed a sewer main replacement and re-routing near the 34th Street playground, a water main replacement on 10th Street from Bay Avenue to West Avenue, and another water main replacement on Central Avenue from 34thStreet to 40th Street.
The city was able to acquire an entire city block to be preserved as open space. The former car dealership lot adjacent to the Ocean City Community Center was taken by eminent domain and protected from dense residential development.
Our successful bayside maintenance dredging program continued at Snug Harbor, Glen Harbor, Sunny Harbor and South Harbor in 2021, and will return to North Point Lagoon, Snug Harbor, Carnival Bayou, Venetian Bayou, Sunny Harbor Lagoon, South Harbor Lagoon and the approach to Clubhouse/Bluefish Lagoons starting next week. Private owners can arrange to have their boat slips dredged at their own expense using our unprecedented citywide permit.
Decking replacements on the Boardwalk were completed from 18th Street to 20th Street. The construction of permanent bathrooms at 10th Street and 11th Street is expected to be complete in time for the summer season, if not sooner.
Much like our roads, our public buildings and facilities are in need of maintenance and improvements, and we were able to accomplish much this year:


The Civic Center at Sixth Street and Boardwalk was completely renovated.
City Hall rest rooms were expanded and renovated.
The Music Pier HVAC system was replaced.
Pickleball courts were resurfaced and fencing expanded. The city completed sound studies in preparation for a potential expansion of courts. A championship court was named for Pickleball advocate Don Hepner.
Improvements to important services include:
Implementation of new interactive RecDesk software to manage Aquatic & Fitness Center memberships and programs
Accepting credit cards for tax payments
Sponsoring semi-annual paper-shredding events, free to residents and taxpayers
The return of our popular and effective raptor program for gull abatement on the Boardwalk
Moving the daily summer flag-raising ceremony to the Ocean City Music Pier with a new flagpole dedicated to veterans Joe Caserta, Bill Cruice and J.R. Robinson
Sponsoring a free patriotic outdoor concert by the Ocean City Pops for the Fourth of July
Working with the school district to provide a venue for the high school's Homecoming Dance and an Ocean City Intermediate School dance.
Providing surf chairs and expanded beach mats to improve accessibility to our beaches
Opening the historic Life Saving Station for visitors
Providing improved Social Services, including regular "OC Talks!" programs
As always, everything we do is with the taxpayer in mind. I'm proud to report that we were able to accomplish all of this with a tax rate increase of just one penny.
Jay A. Gillian
Mayor