Owning a home means having a place that's solely your own and provides the space, features, and location you and your loved ones need. But what happens when your needs change? If this hits home for you, it may be time to make a move.
According to the latest Home Buyers and Sellers Generational Trends Report from the National Association of Realtors (NAR), the average person has lived in their current house for ten years. If you've been in your home for a while, think about how much in your life has changed since you moved in. Even if you thought it would be your forever home when you bought it, it doesn't have to be. Work with a local real estate agent to explore all your options in today's market before settling for your current home.
That's actually what a lot of homeowners are doing right now. A recent survey from Realtor.com finds that, of people who are considering selling in 2023, one in three are thinking about movingbecause their home no longer meets their needs. And according to the same report from NAR, that's consistent with this year's top reasons for selling, which include:
Want to move closer to friends or family
Moving due to retirement
Home is too small or too large
Change in family situation
Job relocation
If things in your life have changed, it may be time to make a move. And there's good news: it's still a great time to sell. Here's why.
We're in a strong sellers' market. That means homes listed at market value and in good conditionare getting attention from buyers and selling quickly. Lean on your expert real estate advisor for the best advice on getting your house ready to sell.
Your equity can power your next move. There's a good chance you have a significant amount of equity right now thanks to record levels of price appreciation in recent years. When you sell, you can use that equity to help afford your next home. In fact, NAR's report from above shows 38% of recent buyers used the money from the sale of their previous home to cover the down payment on their next one. Work with a local real estate agent to learn how much equity you have and what you can do with it in today's housing market.
Bottom Line
If your home no longer meets your needs, consider selling it so you can find your dream home. Let's connect so you can learn about your options.
As the housing market continues to change, you may be wondering where it'll go from here. One factor you're probably thinking about is home prices, which have come down a bit since they peaked last June. And you've likely heard something in the news or on social media about a price crash on the horizon. As a result, you may be holding off on buying a home until prices drop significantly. But that's not the best strategy.
A recent survey from Zonda shows 53% of millennials are still renting right now because they're waiting for home prices to come down. But here's the thing: the most recent data shows that home prices appear to have bottomed out and are now on the rise again. Selma Hepp, Chief Economist at CoreLogic, reports:
"U.S. home prices rose by 0.8% in February . . . indicating thatprices in most markets have already bottomed out."
And the latest data from Black Knight shows the same shift. The graph below compares home price trends in November to those in February: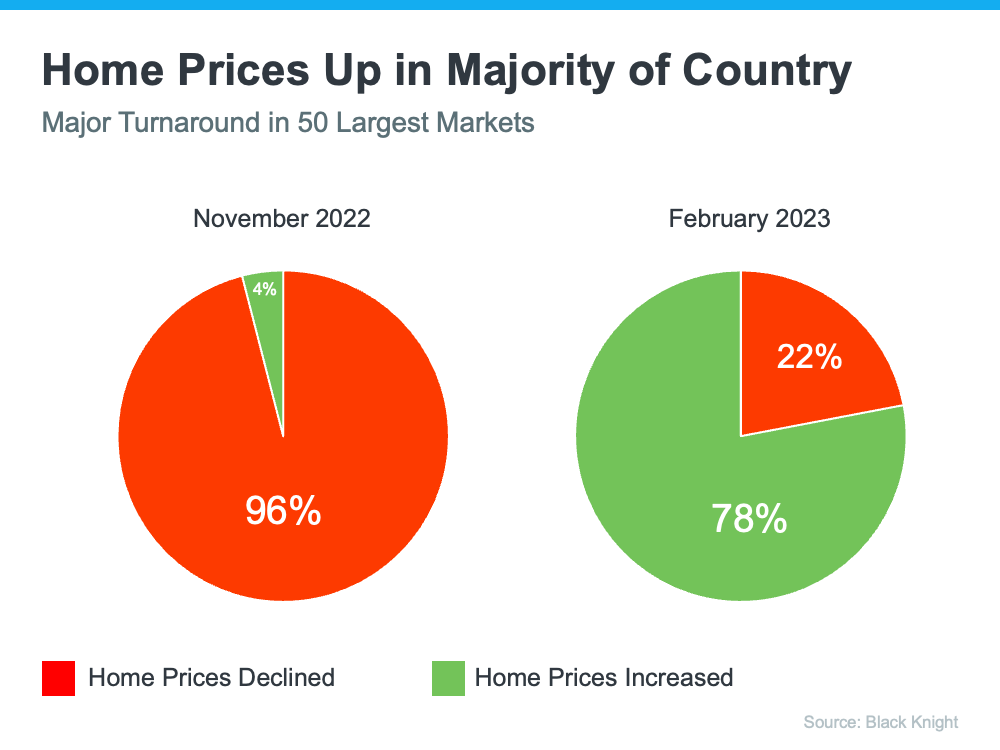 So, should you keep waiting to buy a home until prices come down? If you factor in what the experts are saying, you probably shouldn't. The data shows prices are increasing in much of the country, not decreasing. And the latest data from the Home Price Expectation Survey indicates that experts project home prices will rise steadily and return to more normal levels of appreciation after 2023. The best way to understand what home values are doing in your area is to work with a local real estate professional who can give you the latest insights and expert advice.
Bottom Line
If you're waiting to buy a home until prices come down, you may want to reconsider. Let's connect to make sure you understand what's happening in our local housing market.
If you're thinking about selling this spring, it's time to get moving – the best week to list your house is fast approaching.
Experts at realtor.com looked at seasonal trends from recent years (excluding 2020 as an uncharacteristic year due to the onset of the pandemic) and determined the ideal week to list a house this year:
"Home sellers on the fence waiting for that perfect moment to sell should start preparations, because the best time to list a home in 2023 is approaching quickly. The week of April 16-22 is expected to have the ideal balance of housing market conditions that favor home sellers, more so than any other week in the year."
If you've been waiting for the best time to sell, this is your chance. But remember, before you put your house on the market, you've got to get it ready. And if you haven't started that process yet, you'll need to move quickly. Here's what you should keep in mind.
Work with an Agent To Determine Which Updates To Make
Start by prioritizing which updates you'll make. In February, realtor.com asked more than 1,200 recent or potential home sellers what updates they ended up making to their house before listing it (see graph below):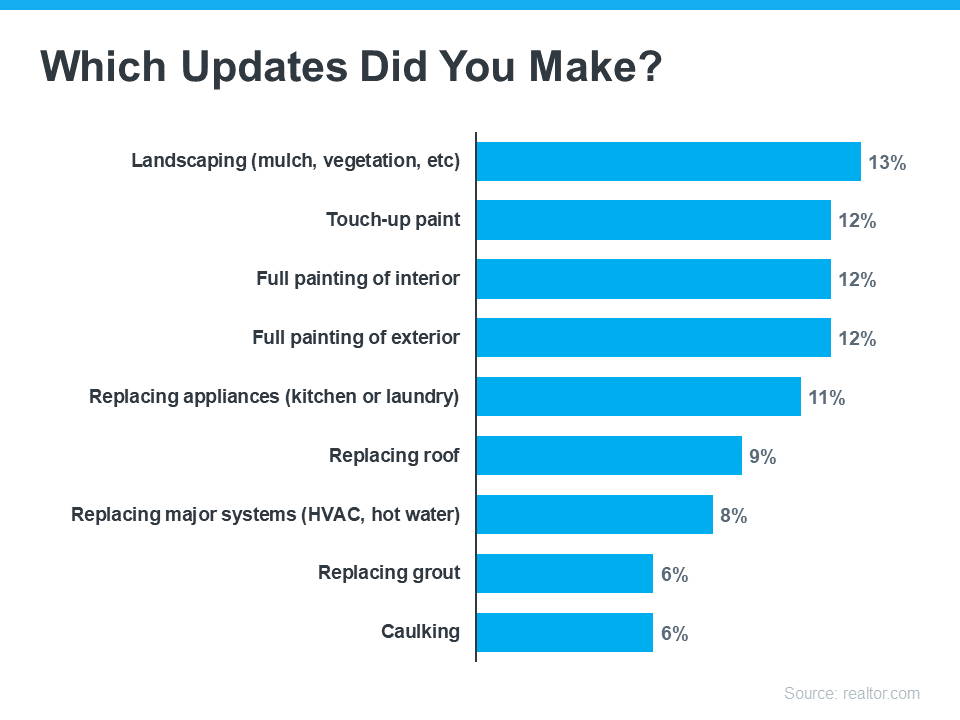 As you can see, the most common answers included landscaping and painting. Workwith a trusted real estate agent to determine what projects make the most sense for your goals and local market.
If Possible, Plan To Have Your House Staged
Once you've made any necessary repairs and updates to your house, consider having it staged. According to the National Association of Realtors (NAR), 82% of buyers' agents said staging a home made it easier for a buyer to visualize the property as a future home. Additionally, almost half of buyers' agents said home staging had an effect on most buyers' view of the home in general. Homes that are staged typically sell faster and for a higher price because they help potential buyersmore easily picture their new life in the house.
Bottom Line
Are you ready to sell this spring? Let's connect to plan your next steps. You can start by making a checklist of what you think your house needs to get ready. Then, we can work together to prioritize your list and move forward together.